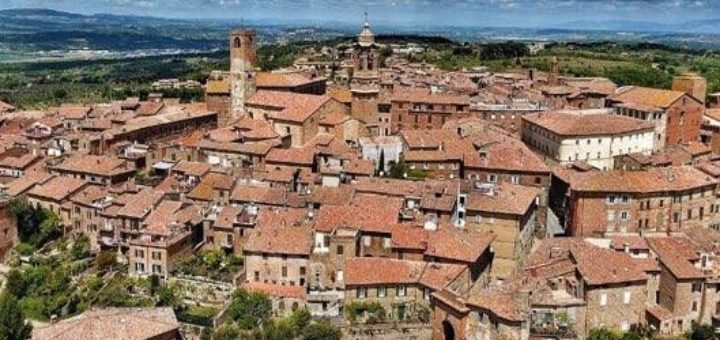 Although there are no memories that prove it, the hill where rises Città della Pieve, was inhabited since the most remote times. Proof of this are the many finds found in the surrounding countryside such as burial urns with figures of gladiators, cinerary vases, tombstones and shields. Many tombs were found in the past containing alabaster urns (one of them with special bas-reliefs was sold at a high price at the National Museum in London. Many of these contained the mortal remains of the Purni family (from the lat. furini or Purii). Objects such as ovals, clay chargers, tools and fibulae were also found. The discovery of chamber and chamber tombs, found in the area adjacent to Città della Pieve and the absence of remains of urban settlements suggests that this territory belonged to the district of Chiusi. In November 2015, excavations on an Etruscan tomb recently discovered in the municipality have enriched the collection of the Diocesan Civic Museum of Santa Maria dei Servi.
Monuments and places of interest
Palazzo della corgna: Located near the cathedral, the Palazzo della corgna was built, on a project by galeazzo alessi (1555/63), by ascanio della corgna, Marquis of Castel della Pieve, and his brother Cardinal Fulvio: The interiors were decorated by Salvio savini and pomarancio (including the feast of the Gods), authors of the frescoes of the ducal palace of Castiglione del Lago.
Torre del Pubblico: Looking at the tower, at least two distinct construction phases from different eras are evident. The lower part in travertine, with squared rows is of many centuries before the 1000 and certainly the upper height of the present.
La Rocca: Following the riots that occurred in the first decades of the fourteenth century, the magistrates of Perugia with ban of 18 December 1326 ordered that there was made a fortress along the walls at the "Cantone del frontone" with a cost of 4,750 florins
The concattedrale: Under the apse of the cathedral are visible the remains of an ancient building made with columns and pillars supporting four arches that come together in a central pillar of octagonal shape.
The convent and the church of San Francesco: Historical records show that around 1280, the Franciscan fathers bought from the Benedictine monks an oratory dedicated to Saint Bartholomew with a small house and a modest portion of land on which they built this convent and a spacious church whose structure is unknown since destroyed in 1776 except of the facade, remained original up to the rose window and in its overall height. Inside the church has been completely renovated according to the taste of the time and made very bright. The bell tower was built (or perhaps rebuilt) in 1600 as readable by the engraving on a brick.