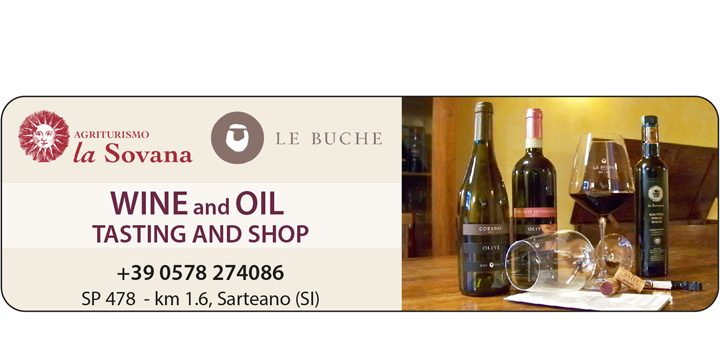 Winery Farm Le Buche
From an early age I have always felt a strong connection to the land so much that, in 1986, I decided to buy La Sovana, I left my a previously ctivitie carried out with my brother Mauro and I decided to create this Farm with my wife Giovannella. With the success of this new activitie I bought the farm "Le Buche" , only 4 kilometers from La Sovana I created a 2-hectare vineyard and, with my son Riccardo, we decided to undertake a new wine project is also supported by the fact that the our customers were lovers of good Tuscan wine and good food.
Our land is very suited to the production of wine so much so that, since ancient times, there were already large vineyards as you can see from the ancient maps of Cadastre Leopold of 1826 where there was already a large vineyard called "Vignone". With great care and precision we made a beautiful project, supported by technical experts like Dr. Laura Bernini, Dr. Andrea Paoletti and Prof.. Daniel Shuster who still assist us in this endeavor. After the first harvest of 2005, in June 2006, become members of the wine project Bernadette and Eric Doyle Higghins, customers at Agriturismo La Sovana, with whom we had woven a great friendship for many years.
With their input we have realized the new winery and bought the two neighboring farms, "Poderino" and "Martignano" with 75 hectares of land (of which 20 of vineyards and olive groves, 30 of arable land and the rest of the woods with a beautiful truffle white truffle) that have been added to the 51 of Le Buche (of which 21 of woods and 30 of vineyards and olive groves). Unfortunately, in 2012 Eric suddenly passed away and for all of us it was a great loss, in fact, Eric was not only a partner but also a great friend, always present, helpful and with a great emotional.
We put great care in the management of our olive groves extending 12 hectares with 4,000 plants and producing variety of typical Tuscan olive varieties such as Leccino, Moraiolo, coreggiolo and crusher. The collection, done strictly by hand before they are completely ripe, allows us to produce a high quality oil that has obtained the DOP certification by the Consortium for the protection of extra virgin olive oil DOP Terre di Siena.
And just to give more quality to the oil, in 2007 we purchased and operate an oil mill that allows us to grind the olives the day of collection. A cold mechanical grinding mill that gives our greater complexity and quality oil. Our extra virgin olive oil has a low acidity, a slightly spicy aftertaste and a lively fragrance. The balanced and harmonious spores is the perfect condiment to enhance the flavors of food.
You can purchase in bottles of 0,50 liter, 0,75 liter or 5 liter tins.
Strada provinciale SP 478 di Sarteano – km 1.6 Sarteano (Siena)
tel.: +39 0578274086   +39 3356070484
---