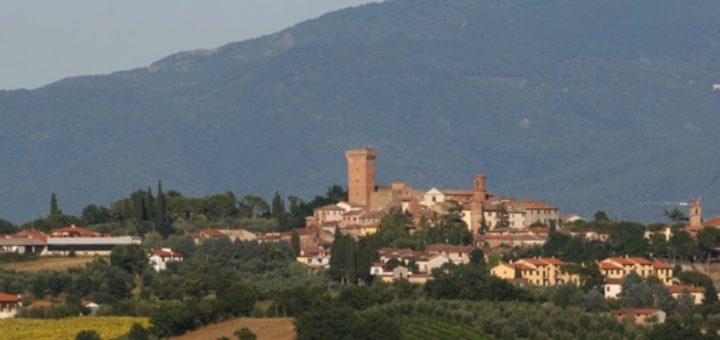 Like the whole Val di Chiana, the same area now in the municipality of Marciano was densely populated already in Etruscan times, when it was subject to the influence of the powerful Lucumonia of Chiusi. To witness the Etruscan presence were found, near the present-day town of Marciano, ceramic artefacts, jewels and the famous Torso di Marciano, belonging to a statue depicting a warrior, dating around the 6th century BC.
The Castle of Marciano is located in the heart of the Val di Chiana, on a hill that is located in the centre of four little pronounced ridges and dominates a vast plain countryside between lucignano, Monte San Savino, Cortona, foiano Val di Chiana. This is the particular strategic position of the hill on which rises, on the border between the territories of Arezzo and Siena, one of the main reasons for the importance that Marciano has played in the past since the 13th century when, first Arezzo and Siena, Then Florence, they contested its domination. The Castle was built, by the Florentine Republic, between the end of the XIII-th century and the beginning of the XIV-th century of the Fortress and the Walls and the Tower. The particular shape rectangle-trapezoidal, qualifies Marciano as a military architecture unlike the other neighboring countries that had a residential function.
This is confirmed by the fact that in 1554 near the Castle of Marciano, the battle known as the Battle of Slaughterhouse or Marciano was fought after which the Medici conquered the whole of Tuscany. This battle was represented by Giorgio Vasari in two paintings that are currently preserved in Florence at Palazzo Vecchio in the Salone del Cinquecento.
The Castle has preserved the characteristics of the medieval settlement: the wall perimeter, geometrically rectangular, is now incorporated in the houses that leaned against it and encloses the oldest part of the town which is accessed through a door topped by a tower with clock recently restored.
Inside the Castle, the small urban agglomeration is dominated by the Tower and the Fortress together with the Parish Church and the Bell Tower.