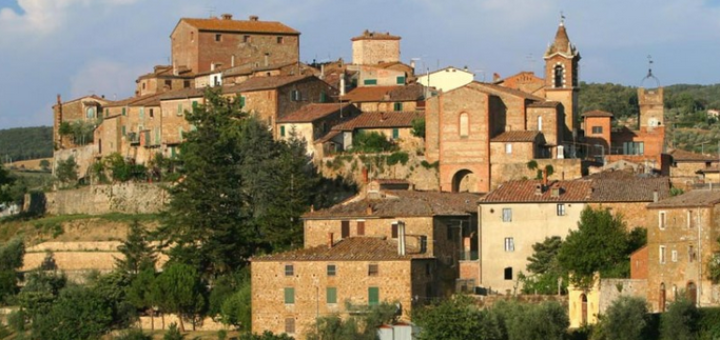 Ancient castle of the valley of the Asso, on the flanks of the chain of mountains. Is remembered by the 1100 as one of the fortified lands of the Sienese countryside.
The most important monuments in Montisi
The Grange of Santa Maria della Scala is the most important monument in Montisi. It was built by the Spedale in 14th century and, when it sold the Grange, the farm was bought by Jacopo Mannucci Benincasa, Secretary of the Grand Duke of Tuscany Peter Leopold. On 30 June 1944, retreating German troops blew up the tower. Currently, the Grange is a private home and a farmhouse. The building is built around two main courtyards, separate from what was once an open loggia. In the southern, there is a small 19th century theater, the result of a radical restoration work in the early 21st century. Now the theater is used for shows and comedies.
Parish church of the Santissima Annunziata
It was built with the contemporary church of Santo Stefano in Cennano, in the nearby village of Castelmuzio, in the thirteenth century in Romanesque style, but it has undergone over the centuries various restorations and alterations. In the eighteenth century the church was restored in Baroque style by the Bishop of Pienza Septimius Cinughi and was re-dedicated – as a plaque to the left of the entrance. The last major intervention began in mid-twentieth century, when the parson Elio Benvenuti to the church expanded by building a new apse and the side chapel. The Romanesque facade still retains the look with two windows on the sides of the portal and the masonry blocks of tuff. The interior, however, is in Renaissance style and the nave is divided into four bays by three sets of three arches supported by marble columns. The church has many works of art such as the altar piece "Madonna enthroned with Saints Paul, James, Peter and Louis" by Neroccio di Bartolomeo de' Landi, and the "Crucifixion" painted in the mid-fourteenth century….Read more
(https://it.wikipedia.org/wiki/Montisi)
---