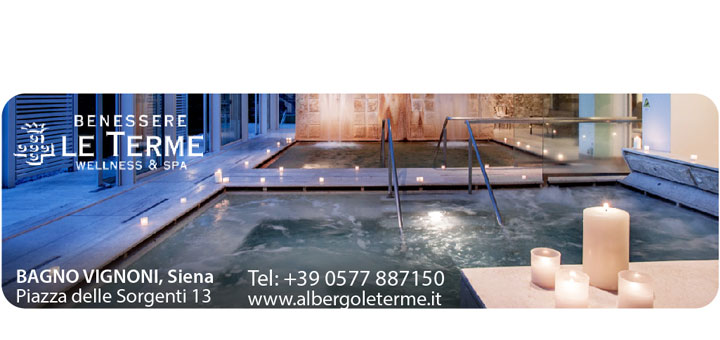 The Le Terme Wellbeing Centre, open every day, offers its several services not only to the Hotel guests, but also to the external clients who desire to let themselves enjoy a relaxing break in its refined and comfortable spaces.
The Le Terme Wellbeing Centre is located in Bagno Vignoni, a medieval village famous for its Piazza delle Sorgenti (Square of Springs), where a thermal spring with innumerable therapeutic properties has been gushing for no less than 2000 years. It is this gift of nature which made the foundation of our Wellbeing centre possible.
The green philosophy behind the Well-being Centre is a guarantee of respect for the environment, the environment from which we take inspiration for our treatments and our oils. We wish to discover and preserve all the treasures of the Val d'Orcia (the valley which is home to our Centre) to reveal them to you, our guests, through the marvels of this oasis.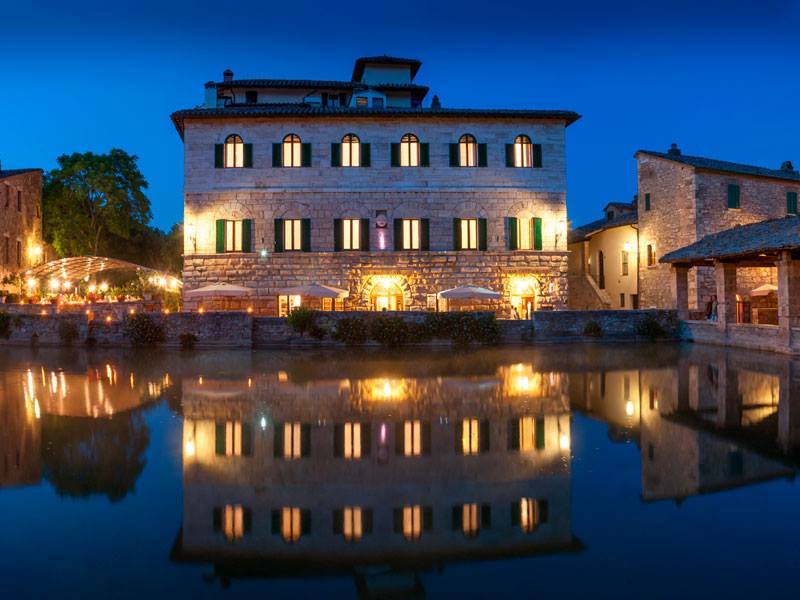 Water and pools
The water of the Bagno Vignoni thermal springs is rich with salts, calcium, iron carbonates and sodium and magnesium sulphates, already prized by the Romans for its curative powers in disorders of the bones and mucous membranes, together with its tonic action on the skin, effecting a gentle, natural peeling, which is regenerating and palliative.
This water, with its extraordinary properties, is used in a variety of different ways at the Le Terme Well-being Centre, always working with its organoleptic qualities to impart its beneficial effects on our guests.
The spa pool, with the thermal spring water,provides the opportunity to immerse in a relaxing bath enjoying a pleasurable massage under the cascading water.Water Temperature: 37°/39°Maximum duration of bathing advised, 15'.The hydro-massage pool combines a massage with the refreshing effect of the water which, at a temperature of about 32°, re-activates your circulation after either bathing in the thermal spring water or the Roman sauna.
The Roman Sauna
The Roman Sauna is designed to purify your body, relax your muscles and regenerate your spirit.
Used from ancient times as a place for company and conversation, it creates a pleasurable and relaxing atmosphere which assists blood circulation and reduces muscular tension and stress.
The sauna has at its centre a pool filled with thermal spring water where you can immerse and refresh yourself. Temperature: about 40°
Humidity: about 50%
Suggestions
A sauna will normally last between 5 and 10 minutes.
It is advisable to have a series of sessions over one day amounting to no more than 30-40 minutes in total.
We would suggest a rest of 20 minutes to allow your heartbeat to return to normal, rehydration with spring water or a herbal infusion and a fresh shower to re-activate your circulation.
Spa Etiquette
SPA ETIQUETTE
To be sure your experience at the Le Terme is relaxing and unique, we would ask you to follow a number of simple rules.
TRANQUILLITY
We ask our guests to conduct themselves in a way consistent with our undertaking to provide relaxation and harmony. Please try to speak in a moderate and calm voice and avoid the use of mobile phones.
HYGIENE AND SAFETY
For reasons of hygiene and safety it is obligatory to use indoor spa footwear and make sure not to slip. Guests may enter the Well-being Centre with the bath-robe and footwear provided on arrival. In no circumstances may you enter fully dressed or with outdoor shoes on.
Before gaining access to the baths you must have a shower. We would also ask you not to dive into the baths but rather to use the steps provided when getting in and out.
For obvious reasons please do not eat snacks near the baths or in the changing rooms, the Roman sauna or the Rasul.  We also ask you not to use glass bottles or glasses in the Well-being Centre.
CHILDREN
We are pleased to welcome children provided that they are accompanied if they are younger than 14 years old.
Babies must wear nappies when entering the water.
We do not advise treatment or use of the sauna for children under 14.
We ask parents to look after their children and ensure that they respect the tranquillity of the Centre.
PREGNANCY
If the pregnancy is progressing normally, there is no reason to avoid a warm bath and massage. In addition to the lymph-draining massages (excellent for pregnancy) at the Le Terme Well-being Centre, we have introduced a delicate massage intended to generate energy and tone. To avoid possibly unpleasant sensations, the bath should not last for more than ten minutes and it should be followed by an adequate period of relaxation and hydration.
The Rasul and the Roman Sauna are not advised.
FOUR-LEGGED FRIENDS
We love and respect animals. It is precisely for this reason that we ask you not to bring them with you to the Well-being Centre.
HOURS AND APPOINTMENTS
In order to avoid irritating mishaps we would ask you to observe the Well-being Centre's opening hours, the times of massages and appointments. If you are late, the treatment may be reduced in length in order to avoid penalising the next guest and you will have no right to a refund.
Treatments can be cancelled within 24 hours before the agreed time. Cancellations occurred after this period will be charged. Cancellation must be confirmed in a written form or the cancellation form must be required to the dedicated staff.
Our staff will be on hand if you need clarification or help with any problem.
We ask you to strictly observe these rules and we remind you that not respecting them will determine the estrangement from the Well-being Centre with no right to a refund.
Times and Availability
Opening Hours
Mondays to Thursdays: 8.00 a.m. to 7.30 p.m.
Fridays, Saturdays and Sundays: 8.00 a.m. to midnight
Prices are per person and include access to the following: thermal spa pool and waterfall, hydro-massage pool, the Roman sauna with thermal spring water for immersion, herbal bar, use of bath-robe, bath towel, indoor spa footwear, bathing cap, bag and cupboard.

 We advise booking in advance.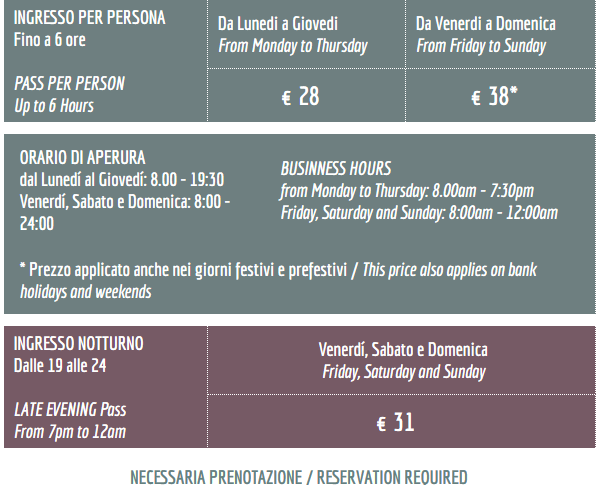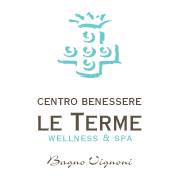 P.zza delle Sorgenti 13, Loc. Bagno Vignoni, 
San Quirico d'Orcia (Siena) Tel. +39 0577 887150
---